【Kaiho Alliance】 Our domestic recycling companies network
In Japan, many used automobiles are generated every year.
We will introduce you the Japanese market: how many companies dismantle vehicles and what the Kaiho Recyclers Alliance is (unique business network from Kaiho Industry).
Annual number of used cars and number of car recyclers all over Japan
The number of used automobiles generated in Japan in 2019is approximately of 3.36 million. (source: Automobile Recycling Promotion Center)
About 3,400 dismantling companies all over Japan process them. Recycling companies range from large to very small.
What is the Kaiho Recyclers Alliance?
"Kaiho Recyclers Alliance" is a unique alliance organization proposed by Kaiho Industry.
This is a call to all of our peers to mutually enhance the profitability and sociability of the automobile recycling industry. Rather than competing one each other, we proposed to ​​build a large network by coordinating and providing services that satisfy more Clients.
Currently, with the support of many of our peers, about 70 domestic companies have joined the Kaiho Recyclers Alliance.
Approximately 560,000 of the approximately 3.36 million of used automobiles generated in Japan in a year are processed in the 70 companies of the Kaiho Recyclers Alliance.
This is about 17% of the maket share. There is no doubt that the Kaiho Recyclers Alliance has a fairly large share in Japan.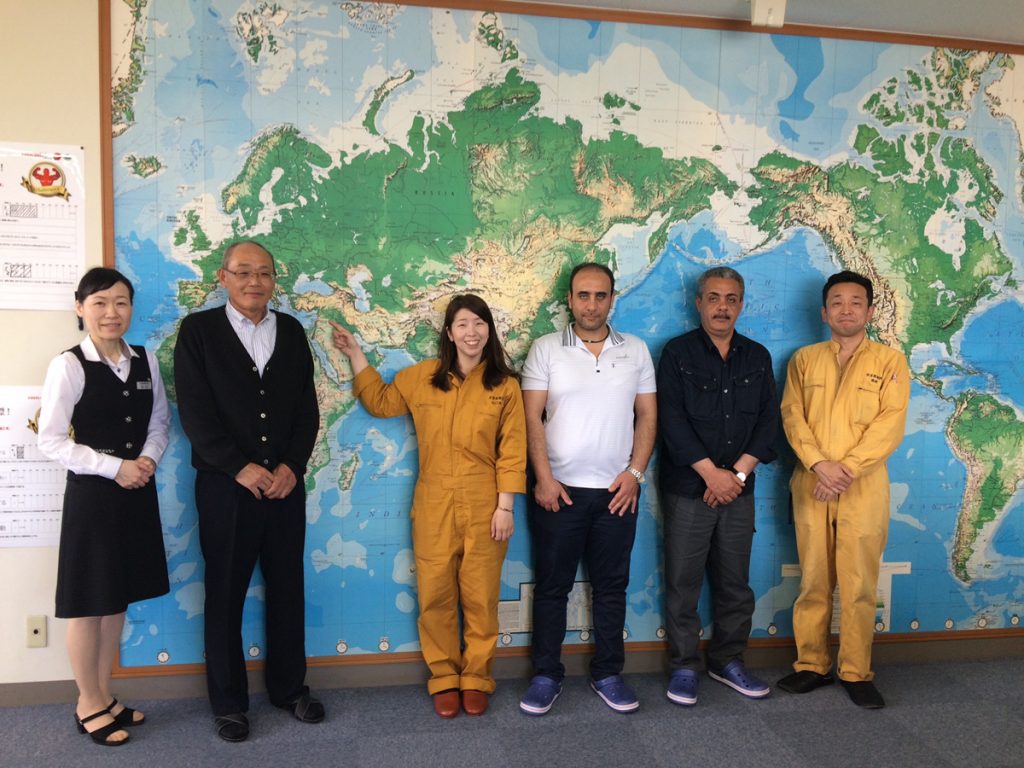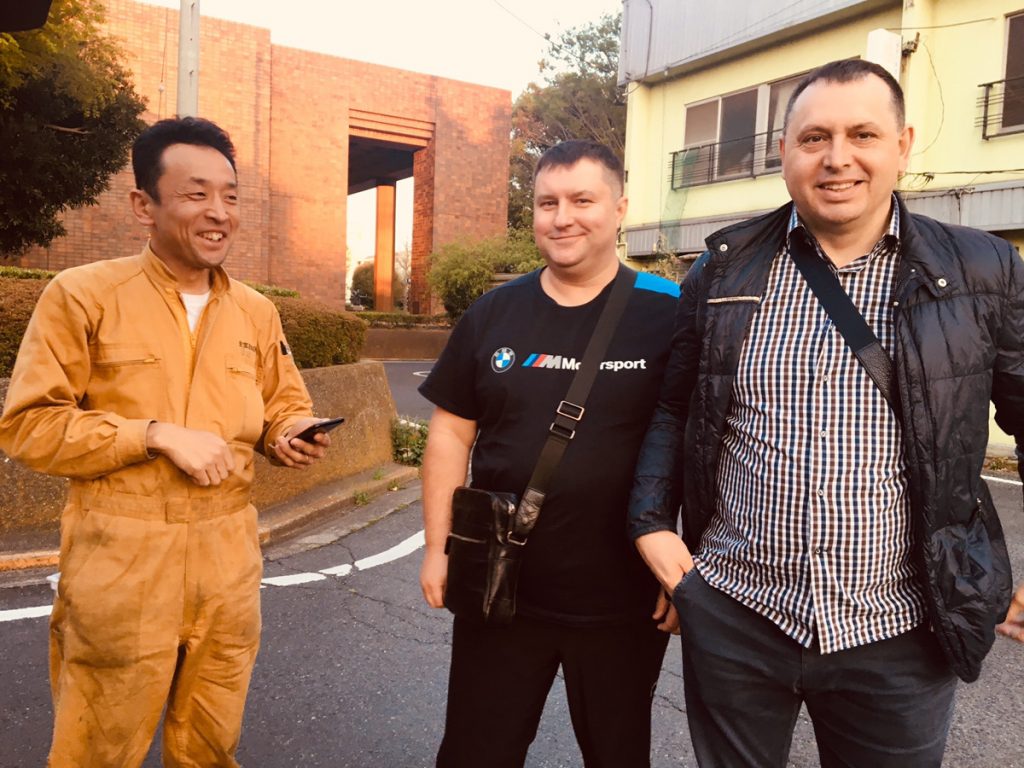 Services through the Kaiho Recyclers Alliance
Extensive product lineup utilizing KRA system
The KRA is a system that can manage everything from the stock to the sales. Using this system you can immediately check the inventory of all alliances in Japan(70 companies of the Kaiho Recyclers Alliance).
Dont worry if Kaiho Industry has not the used engine that you need.
We will immediately search for that engine in the 70 companies of the Kaiho Recyclers Alliance using our system.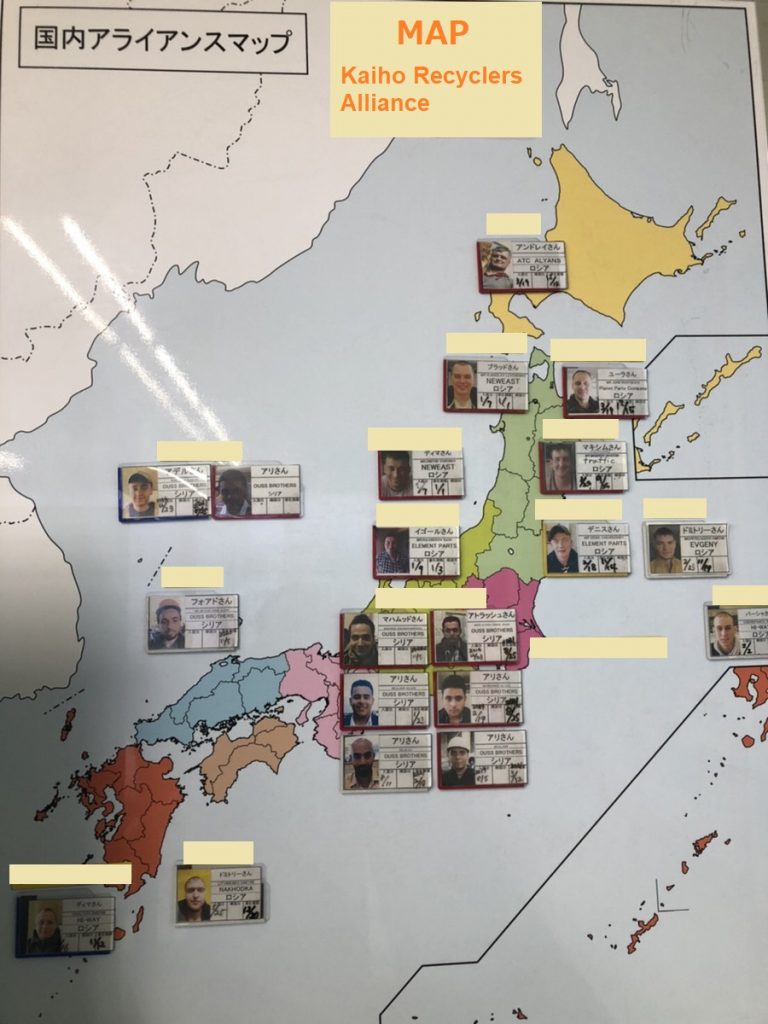 Also exhibited at KME (Kaiho Middle East) auction
At the used car parts auction held every week in the UAE (Sharjah), many products from the Kaiho Recyclers Alliance, including our company, are exhibited.
Approximately 130 containers arrive at the UAE branch annually. So there is a path of 3-4 containers at week. There are various products such as engines, half-cuts, and small parts. Each container has its own characteristics, such as container with mainly diesel engines or a container with many 4WD engines.
You will be amazed for the quantity and variety of products. It's hard to find a rare used engine, but here you may find that engine here that you really want to get.
If you are in the business of used engines & parts around the UAE, it will be a very effective way to buy used engines.
Kaiho Truck Net Auction (KTN)
Many used trucks from about 70 companies of the Kaiho´s Recyclers Alliance are also exhibited at the used truck auction sponsored by Kaiho Industry . This is a completely new auction system that allows you to participate and bid by Internet.
It is held about 20 times a year (more or les twice a month), with about 200 bidding members and 45 exhibiting companies. The number of vehicles exhibited at once is about 30. The wide lineup from large trucks to 2t cars and buses is very attractive. Since it is a web bid, you can easily access it even if you are abroad.
In a real-case, a Malaysian Client participated in the auction online and won several used trucks. In order to save transportation costs, we held a meeting and agreed to dismantle those vehicles so can be those could be loaded in containers and transportated by sea. It is also possible to arrange any vehicle according to the situation in this way.
KCA (Kaiho Chiba Auction)
1,000 to 1,200 engines are gathered monthly from the Kaiho Recyclers Alliance all over Japan. The products exhibited are very popular within domestic and foreign buyers who come to buy used engines and parts. In the last auctions, about 80% of the total engines has been sold. Not only engines but also axles and half cuts are exhibited.
Introducing suppliers that meet your needs
Do not worry even if the conditions do not match with Kaiho Industry (Kanazawa Headquarters). We can introduce you other companies which are affiliated. About 70 companies of the Kaiho Recyclers Alliance are located all over the country, we provide support to introduce the most suitable destinations considering the size and area of ​​the company and access to the port. This is the best plan for Clients that want to come to Japan to inspect their containers with their own eyes.
In fact, many buyers that we introduced to 16 Kaiho Recyclers Alliance companies nationwide are currently being seconded. The annual number of containers shipped by them is about 140. We are working with alliance members in various places.
In this way, we will do our bestt to meet your needs together with about 70 companies of the Kaiho Recyclers Alliance.