【Genuine JDM engines】 Is there any way to prove that the engine is from Japan (Kaiho Industry)?
Some of our customers who contact us say, "I want engines that were used in Japan. Is there any way to ensure that the engine was bought from Japan (Kaiho Industry)? How can I be sure that the engine is definitely from Japan?"
At Kaiho Industry, engines are inspected and tagged before they are shipped and loaded into containers. Only engines that have passed our own inspection test are sold.
We can also issue engine certificates to customers who wish to do so.
About Engine Barcodes
Each engine purchased by Kaiho Industry is issued with an engine barcode, which is attached to the engine.
This barcode clearly states the engine model, drive and details.
In addition, each engine is issued with its own tracking number, which enables us to check the comments and condition of each engine in chronological order, from the time of receipt to the time of shipment. The name of Kaiho Industry is clearly marked on this barcode.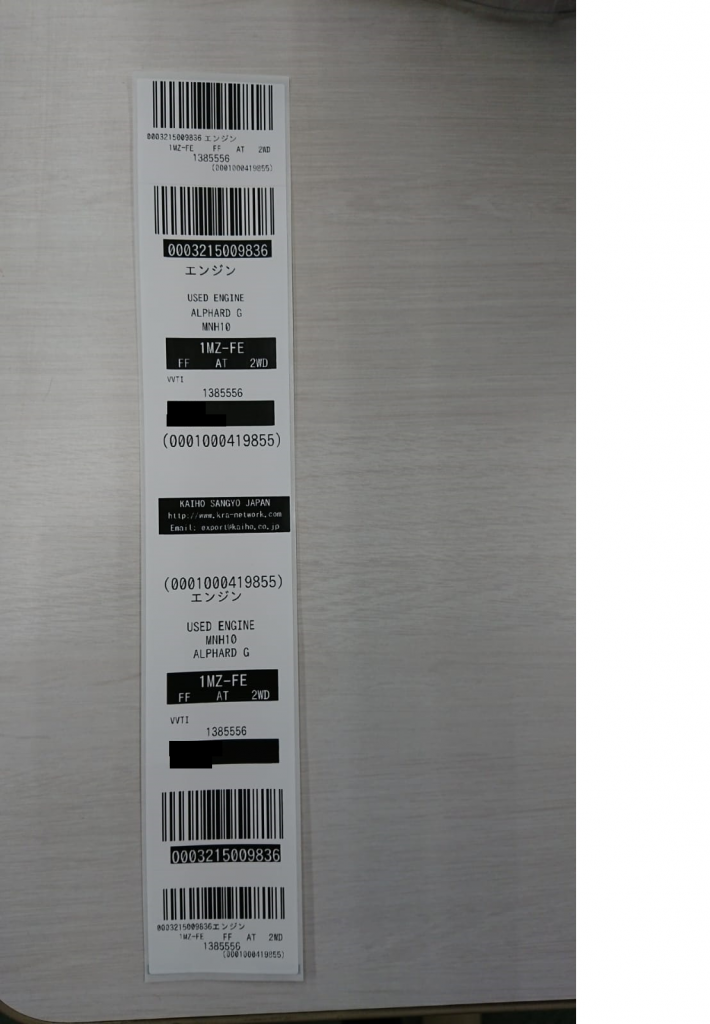 Kaiho Industry developed its own standard named "JRS (Japan Reuse Standard)" to evaluate the quality of used engines.
The test uses a five-level assessment for six items including compression, overheating, mileage etc.
Using this JRS screening system, Kaiho Industry inspects the condition of most of the engines that come into our warehouse.
The standard for functional evaluation was officially issued as "PAS777" by the British Standards Institution, which is also an international certification body like ISO standards.
Since the quality of used engines evaluated by this standard is clear, clients around the world can purchase without worrying. The name of Kaiho Industry is also clearly indicated on this tag. Some customers use this tag to show that the engine is reliable and sell it.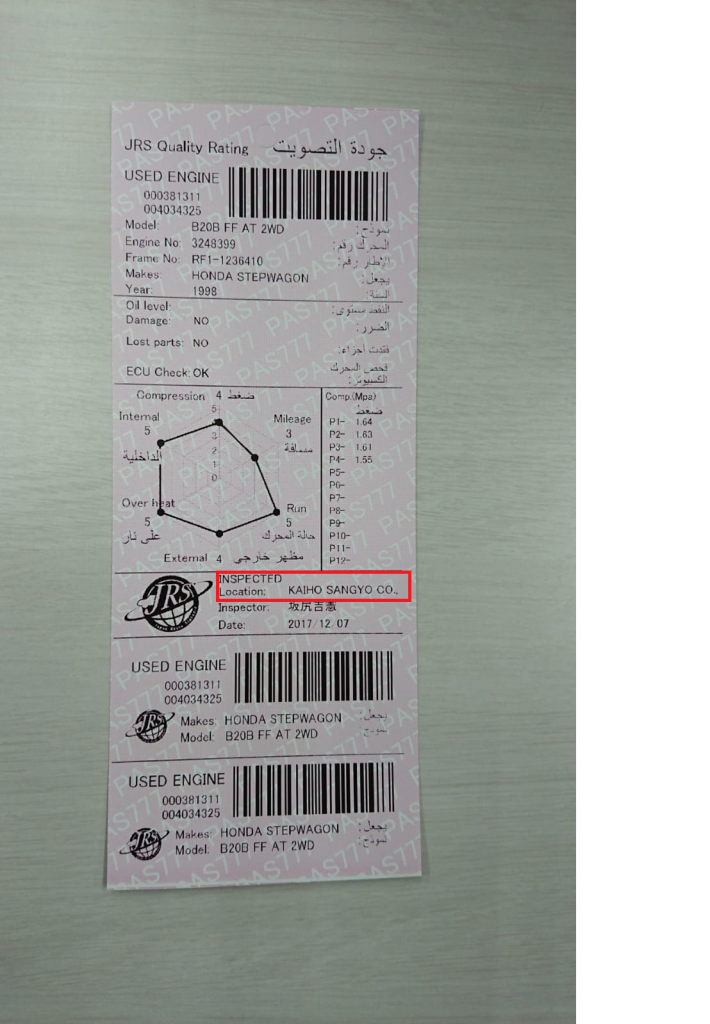 About Engine Certificates
We can also issue a certificate for each engine to customers who wish to do so.
Along with the engine details, the certificate will clearly state "This engine was sent from Kaiho Industry, Japan".
In this way, engines shipped from Kaiho Industry will have two different tags to prove it. In addition, an engine certificate is also available upon request. This will prove that the engine has been used in Japan. So, you can rest assured.
If you are interested, please feel free to contact us.
Click here for the contact form