【Japanese used car auction】 to collect your wish cars
What is the Japanese used car auction?
The Japanese used car auctions are places where dealers sell used vehicles to each other.
Eligibility for vendor auctions
More than one year has passed since the secondhand dealer license was issued.
Having a permanent goods exhibition space and office, and conduct business activities.
A guarantor must be provided.
A deposit must be provided.
Auction agents and used car dealers who meet all of the above conditions are eligible to participate in used car auctions and individuals who do not meet above cannot join to it.
Collecting cars from used car auction is not the best way to get used engines and parts sometimes as there is no cap for the final price and it might be expensive if there are many bidders.
Auction cars will be purchased at a more expensive price than the ones collecting from local car owners. However, if you want to purchase any specific cars which cannot be available from local customers and can afford to buy cars even with higher prices, auctions would be one of the options to get used cars, engines and auto parts.
How many vehicles go through the Japanese auctions?
During peak months (March and April), there were up to total 250,000 〜 300,000 cars and trucks per month going through USS auction in Japan for example last year, but during the quieter periods (January, August and December) the number would be about 2/3 of this.
We Kaiho also purchase used cars from auction and dismantle them to supply used engines and auto parts to our clients in the world to meet their demand.
What are the main auction groups?
In this section, we will introduce some of the biggest used car auctions in Japan.
Company Name Number of Venues
USS Auto Auction: 19 locations nationwide
USS Auto Auction is the largest auction in Japan. There are 19 venues nationwide, from Hokkaido to Kyushu area. The Tokyo venue is one of the largest, with a capacity of 20,000 vehicles.
TAA Auto Auction: 10 locations nationwide
TAA auctions are run by Toyota. There are also venues in a wide range of areas from Hokkaido to Kyushu area. Toyota dealers sell their purchased vehicles here, so there are many good quality vehicles.
CAA Auto Auction: 4 locations nationwide
CAA Auto Auction has four venues in eastern Japan, from Ishikawa Prefecture in the north to Aichi Prefecture in the south. The Chubu venue (Aichi Prefecture) has a capacity of 6,500 vehicles. We Kaiho always check the cars our clients are requesting on these auction as well to supply good quality used engines and parts.
Who supplies cars to these auctions?
Supplying of vehicles to Japanese car auctions comes from various sources. The main source for the auctions is dealers such as Toyota, Honda and Nissan dealers etc. When a customer purchases a new vehicle, the dealer usually gives the customer for the proposal of trading in an old car to buy a new one and later exhibits them to the used car auctions. The second supply of vehicles comes from the normal used car dealer network. One of the largest companies for this category is "Gullivar" who sells their trade ins through the auctions.

Which season the most used cars are exhibited to the auction?
The Japanese accounting year finishes on March 31st mostly. Companies and dealers, for tax purposes, want to reduce their inventory of vehicles by this date. They might exhibit their vehicles to the auctions to reduce their stock for tax purposes.
Car tax (the larger the engine, the larger the tax) is also to be paid by the car owner every April. Companies and individuals therefore will often hold onto their vehicle until the car tax is to be paid and then trade it into to a dealer during this season. Due to demand and supply, the prices of cars might be low between March to April when the supply is high. This might be the best time to buy used cars at the auction since the most supply can be expected and you would be able to get your wish used engines and parts.
Sometimes there is so much stock in the auction during this season, some auctions go on until the early hours of the morning such as 4:00 AM etc.
Is it possible to get a car from auction as a foreign buyer?
As we mentioned above, Japanese used car auction is only allowed to new car dealers, used car buyers and sellers. If you do not meet the requirement, cannot join to the auction as foreign buyers. However, we Kaiho Industry can supply used engines and parts including used cars collected from the auction and dismantle them for you.
For this process, we have a service to collect used cars from auction and supply to you as you wish, such as complete car or dismantle it into used engines and parts. The following is the steps for this service at our company.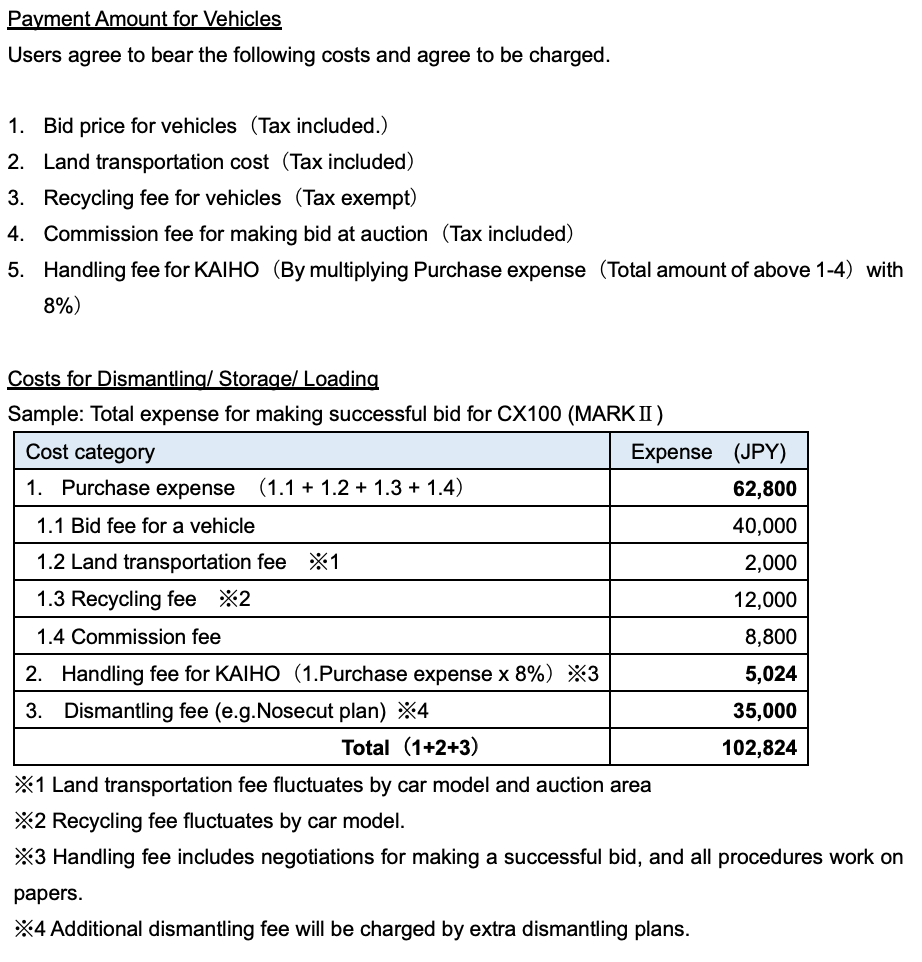 If you are interested in purchasing cars from auction, and get used engines and parts, please feel free to contact us.
We try to do our best to collect your wish items as much as possible from our wide network and used car auctions as well.
If you have any question or inquiry, please feel free to contact us!